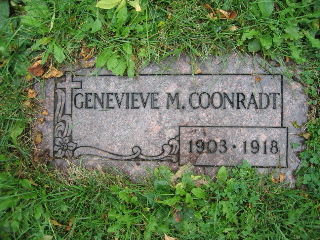 The Allen & Coonradt Families
The Rich Get Richer and The Poor Get Poorer — even in their legacies
We don't often think about it, but history is not a "thing." As David Hackett Fischer points out in his book, Historians' Fallacies, history is a logical argument based on selected facts. While history itself may not be a thing, the facts that are needed to support the logical arguments of written history are "things"—books, letters, architecture and public records, to name a few. Notice that Mr. Fischer didn't say that history is based on all of the facts, just "selected" facts. Unfortunately, that often means that ordinary people get left out of history, their facts are not "selected." Part of the reason for that is that they don't leave as many material and cultural artifacts behind. The things that they owned and built, which were fewer in number to begin with, aren't of the same quality (read, "as costly") as those of the people we tend to remember. The history of ordinary people is spread out, tucked away in boxes at local and state historical collections. That makes it harder, though, fortunately, not impossible, to write their history—it just takes more time and a lot more looking to find the things that you need.
The members of Olivet Methodist Church (724 East 26th Street) and its predecessor, the Thirteenth Avenue Methodist Church, were just such people--ordinary people doing extraordinary things. They were not the sort of people who spent their money on memorials to themselves, but people who gave what they could to help those less fortunate than themselves. Members of this congregation, as was true with members of other Methodist congregations, were early supporters of the anti-slavery, temperance and women's suffrage movements. Perhaps their greatest contribution to our local history in Minneapolis was their sustained support, both financial and in-kind to Asbury Methodist Hospital.
There are many members of the congregation buried in Minneapolis Pioneers and Soldiers Cemetery. There isn't enough time or space to tell all of their stories, but here are a few:
Stephen Allen died on October 20, 1890, of old age. A native of Maine, Mr. Allen was born about 1800. His wife, Elizabeth, had died six years earlier of apoplexy; she was 85 years old at the time of her death. Parish records include a note next to Stephen Allen's name that simply says, "A good man." It doesn't provide much evidence to build an argument about how important he was to his church or his community, but in another sense, it tells us pretty much everything that we need to know—a fitting epitaph for a life well lived.
Five of Noah and Sophia Layton Coonradt's children are buried in the cemetery. Mr. Coonradt was a Civil War veteran, who served in Company K of the 40th Wisconsin Volunteer Infantry. After the war, he moved to Kansas, where he met and married Sophia Layton in 1871. Soon afterward, they moved to Iowa where the first of their nine children was born. By the early 1880s, they were living in Minneapolis where Noah Coonradt found work as a stone mason and joined a local chapter of the Grand Army of the Republic. The year 1884 was a devastating one for the family. Their two and a-half year old son, Lester, died in May from meningitis. In October, their twelve-year-old daughter, Delia, died from diphtheria, and three weeks later their ten-year-old son, Noah died, also from diphtheria. Another daughter, Minnie, died in June 1893, and yet another, Genevieve, died during the Spanish Influenza epidemic in 1918. The only one of their children buried in a marked grave is Genevieve. Noah and Sophia and their remaining four children moved to Portland, Oregon, shortly afterward Genevieve died.
The only local reminder that we have of the time that the Coonradt family spent in Minneapolis is a handful of documents—church records, a mention in the Grand Army of the Republic ledger, and listings in city directories. Their home at 2402 13th Avenue is gone, as are the schools that their children attended. Soon the church where they had been members will be torn down to make way for the 700-car parking ramp that is part of the expansion of Minneapolis Children's Hospital. Perhaps if they, and other members of Olivet, been richer or less inclined to share what they had, they'd have left us more to remember them by.
The five Coonradt children are buried in Lot 99, Block K of Minneapolis Pioneers and Soldiers Memorial Cemetery. Stephen Allen is buried in Lot 31, Block B, next to his wife, Elizabeth.
Next Article -> Charles Collins -- October 2007