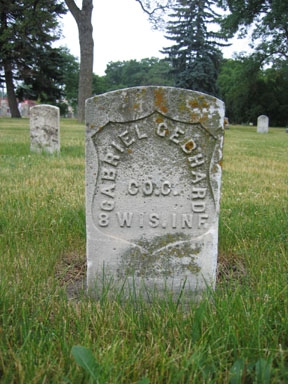 Gabriel Gebhard
Gabriel Gebhard was one of an estimated 400,000 immigrants who fought for the Union forces during the Civil War. He was born in Germany on June 2, 1835, but moved to Pennsylvania and became a naturalized American citizen in 1854. When the Civil War broke out, Mr. Gebhard was living in Anson, Wisconsin. It was there that he enlisted in Company C of the Eighth Wisconsin Infantry on August 23, 1861.
Company C was named the Eagle Company in honor of their mascot, a bald eagle named "Old Abe." The eagle was purchased for the company by their captain for $2.50, and the company that had been known as the Eau Claire Badgers renamed themselves the Eau Claire Eagles. Over the course of the next four years, Old Abe was to become the best known of many Civil War mascots. He was credited with participating in 34 battles and skirmishes and with having been wounded twice (though not seriously). Although many of Old Abe's exploits likely were exaggerated for the sake of good story telling, the powerful effect that he had on the morale of the men in the Eighth Wisconsin Infantry was real. Old Abe's reputation was such that, before the Battle of Corinth, Confederate General Sterling Price reportedly ordered his troops to kill Old Abe if they could not capture him. One witness quoted Price as saying the "he would rather get that bird than the whole brigade."
On October 3, 1862, Gabriel Gebhard fought in the Battle of Corinth. He was one of 17 men from his company wounded that day. Although Gabriel Gebhard's thoughts on that day are lost to us, Captain William J. Davis, another wounded member of the 8th Wisconsin Infantry, described Old Abe's significance to the regiment. Earlier in the battle, a bullet had severed the tether that held Old Abe to his perch. As Davis watched, Old Abe "slowly raised himself on his broad pinions and floated over the rebel lines." Davis was devastated, "hardly knowing what most to deplore—our defeat, my own disaster, or the loss of our guardian aegis." As Davis was being carried from the battlefield, he looked up and saw that Old Abe had returned to his perch. He wrote, "What joy filled my heart!" He interpreted Old Abe's return as an omen that the Union forces would prevail at Corinth and two days later, they did.
During the battle Gabriel Gebhard sustained gunshot wounds to his right side and his right wrist. He recovered sufficiently to complete his three-year term of enlistment and to re-enlist for an additional year. He was mustered out of the service on September 5, 1865.
The following year, on June 3, 1866, he married Lizetta Harter in Kane, Illinois. Shortly after, they relocated to Minneapolis where their first son, John, was born in October 1871. Their second child, Emma, was born in January 1876. Their third child, a son, was born on November 27, 1878, but died two days later. He was buried in the paupers' section of Minneapolis Pioneers and Soldiers Cemetery.
In June 1880, Gabriel Gebhard filed for a disability pension. He was awarded $2.00 a month for the injuries that he received at Corinth. He worked as a day laborer until shortly before his death on January 3, 1916, at the age of 80. Mr. Gebhard is buried in the Grand Army of the Republic plot in Minneapolis Pioneers and Soldiers.
Next Article -> Della Stokes -- October 2006