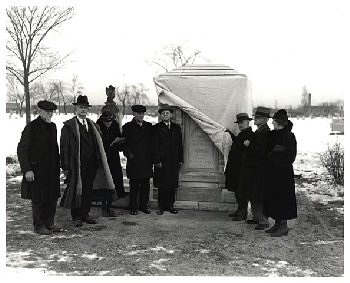 "Is there no surety for those who inhabit the cities of the dead?"
Never underestimate the power of a well-written letter to the editor. It was just such a letter that was the first step in preserving Layman's Cemetery.
The letter, titled "Let Them Sleep Undisturbed," appeared in the Minneapolis Journal on April 26, 1925. Its author, known only as Mr. Andrews was a call to action to "every good Minneapolitan who loves his City." It was a request that those good citizens "make vigorous protest" about the sale of the cemetery to the Park Board for use as a playground. In language that sounds stilted by today's standards, Mr. Andrews asked, "Is there no surety for those who inhabit the cities of the dead? Have they no guaranty that their last resting places shall not be violated?" He ended his letter with the assertion that, "Layman's Cemetery should be preserved inviolate. It should be beautified and cared for lovingly." Mr. Andrews' letter was reprinted as a pamphlet and served as a powerful community organizing tool.
The process of disinterring people from the cemetery had started around 1920 and was well under way by the time that Mr. Andrews' letter appeared. An estimated 6,000-7,000 people had already been removed, but Mr. Andrews' letter put an end to that.
Almost immediately after his letter appeared, an ad hoc committee began meeting to map out a plan for saving the cemetery. They were successful in persuading the City to allocate $35,000 to buy out the interests of the Layman heirs. In 1927, the City took possession of the caretaker's cottage, the roadways within the cemetery grounds, and all of the vacant lots that were owned by the Layman family. Those graves that were owned by families remained their property.
In 1930, a more permanent organization, the Minneapolis Cemetery Protective Association, came into being. The MCPA met fairly regularly from 1930 to the late 1940's. They worked with local and state politicians to raise funds for the cemetery's maintenance and with veterans' groups to make sure that all eligible veterans had military markers. Two of the organization's most active members were residents of what is now known as Phillips. The MCPA met at the home of Dr. Peter and Annie May Holl, located at 2011 Chicago Avenue. Mrs. Holl, the daughter of a prominent Minneapolis pioneer family passed away in 1930; her husband remained actively involved in the MCPA until his death in 1947. They are buried in Hillside Cemetery; their home at 2011 Chicago still stands.
Next Article -> Pioneer Mother's Monument -- January 2007