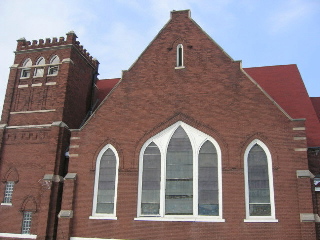 David Rickett
Moses Led Welsh Church From Franklin Avenue to Near Lake Street
Immigration, transportation, and affordable housing have been enduring themes in (what is now called) the Phillips neighborhood since the 1880s. It was during the 1880s that our neighborhood became the heart of the Welsh community in Minneapolis; in fact, it was the only such community in the Twin Cities. By 1900 there were 244 Welsh-born immigrants and 590 of their American-born children living in Hennepin County. The majority of those Welsh families lived within a few blocks east or west of Bloomington Avenue, between Franklin and Lake Street.
The Welsh were generally viewed as a serious-minded and deeply religious people whose first order of business in any community where they settled was to build a church. The church was the heart of their community—the place where they could keep Welsh culture alive. It was through their churches that the Welsh immigrants' passion for their language, poetry, and music found its truest expression.
The first Welsh church in the Phillips neighborhood was built at the intersection of 17th Avenue and Franklin. Its first minister, the Reverend John Moses, received a call to serve as the first permanent pastor to Minneapolis' Welch Church in 1883. At the time that he received the call, he was living in Watertown, Wisconsin. Another Welshman who made the move from Watertown to Minneapolis in 1883 was David Rickett.
David Rickett was born in Llanwddyn, Wales, on September 10, 1821, and was baptized in the Welsh Calvinistic-Methodist Church two weeks later. It is not clear when he emigrated to the United States, but like the majority of Welsh immigrants who settled in Minnesota, he first settled in one of the Welsh communities east of the Mississippi River.
When the Federal Census was conducted in 1870, David Rickett was living in Wisconsin with his wife and their three children. He was 50 years old at the time and was working as a brick mason. His wife, Jane Jones Rickett, was born in Wales in 1821 and had emigrated to the United States when she was 14 years old. Most likely, David Rickett and Jane Jones met and married in Wisconsin. Their seven children, only three of whom survived to adulthood, were born there.
By 1889, David Rickett and his family lived at 2434 15th Avenue South, a few blocks away from their small, but very beautiful, church. Although he was 68 years old, David Rickett was still hard at work as the supervisor of the brick masons employed by the Chicago, Milwaukee and St. Paul Railroad.
David Rickett died in 1898 but lived long enough to see his daughter Jane Esther (Jennie) Rickett, a very talented soprano, perform with the South Minneapolis Philharmonic Society or "Welsh Chorus." On January 1, 1890, the chorus won second place at the National Welsh Music Festival, which was held in Chicago. The Chorus continued to perform and give benefit concerts, both nationally and regionally, for a number of years and was considered to be one of the best Welsh singing groups in the United States.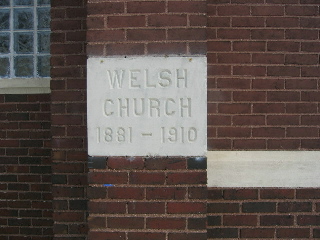 By the early 1900s, the Welsh congregation had outgrown its first church and started planning to build a new one. They purchased land near 15th Avenue and Lake Street, and in 1911 broke ground at 2917 15th Avenue South. Although David Rickett did not live to see this new Welsh church, his wife and their two adult children, Thomas and Jennie did. By the 1930s, church membership had started to dwindle—most of those who had emigrated from Wales had died, and their children were getting on in years. The grandchildren of the Welsh immigrants were fully assimilated and had started moving away from the neighborhood. Despite declining membership, the church offered at least some of its services in the Welsh language until the 1940s. In 1948, the Welsh Church disbanded, but that did not signal the end for the church that they had built. For the past 60 years, the church has continued to serve the community by providing a home for a number of different congregations. Currently, it is the home of Iglesia De Dios Monte Sinai.
David Rickett died on June 28, 1898, from valvular heart disease. He is buried in Lot 31, Block O of Minneapolis Pioneers and Soldiers Cemetery. Jane, Thomas and Jennie Rickett are buried in Lakewood Cemetery.
Next Article -> A Brief History -- September 2003