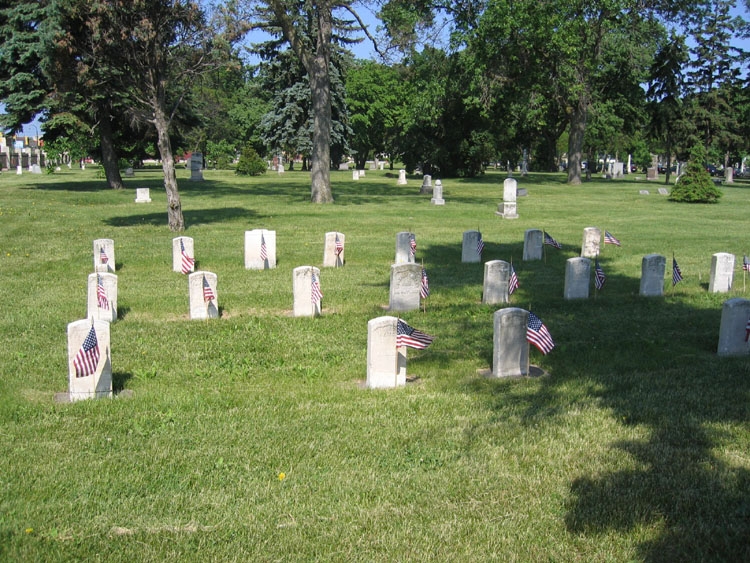 Memorial Day, 2006
It was a perfect day for the 137th annual Memorial Day observance in Minneapolis Pioneers and Soldiers Memorial Cemetery. Over 300 people participated in the traditional program in the morning, and, despite temperatures in the 90's, another 50 people attended a history talk and tour in the afternoon. Major Kevin Olson, Minnesota National Guard Public Affairs, was the main speaker. Brenna Kruse, a freshman at South High School, recited General Logan's orders which established the setting aside of one day each year to recognize the contributions of veterans. Bob Hagen, South High School class of 1940, recited the Gettysburg Address, which he had done in 1939 when he was a junior in high school. Music was provided by the Seward Concert Band under the direction of Charles Boody. Mr. Boody will be retiring as band director, and he spoke to the audience about the need for more people, especially younger people, to observe Memorial Day and to be active in social causes that are meaningful to them.
As part of the afternoon celebration, Council Member Gary Schiff announced that the cemetery has recently been designated a landmark site by the City of Minneapolis. A bronze plaque acknowledging that designation has been installed on the caretaker's cottage. He also announced that the City has set aside funds to restore the wrought iron fencing along Lake Street and Cedar Avenue. The fence, which was installed in 1928, is one of the architectural features that are included in the cemetery's historic designation.
Many groups and organizations volunteer their time and resources to keep the spirit of Memorial Day alive. Special thanks are due to a number of veterans groups and auxiliaries, the Seward Community Band, the City of Minneapolis, Boy Scout Troop #82, and Friends of the Cemetery volunteers. Thanks to everyone for making one of our community's longest-standing traditions a success.
Next Article -> Woodmen of the World -- August 2006