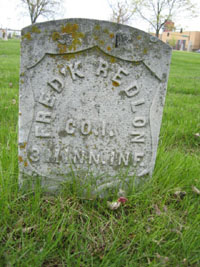 Lieutenant Cyrus Redlon
A Good Enough Place to Die In
One hundred and fifty years ago, on November 15, 1855, Cyrus Franklin Redlon arrived in St. Paul, Minnesota on the steamship War Eagle. He was on his way from Boston, where he was born, to his new home in Rockford, Wright County, Minnesota. Cyrus Redlon, known as Fred, was two weeks shy of his sixteenth birthday.
After disembarking in St. Paul, he took Lucien Parker's stage coach to the village of St. Anthony. From there, he "hoofed it to Rockford over the frozen ground and nearly froze…to death." Redlon farmed in Rockford until September 27, 1861, when he enlisted as a musician in Company A of the Third Minnesota Infantry.
The Third Minnesota Infantry was sent to Arkansas where they were captured by Confederate forces at Murfreesboro on July 23, 1862. One month later the prisoners were exchanged, and Redlon's unit was sent north to serve during the Dakota Conflict of 1862. Redlon's company was present at Camp Release when Wabasha, a Dakota elder, turned over 269 captives to General Sibley.
Redlon's company returned south, and on December 22, 1863, Redlon re-enlisted. He was one of several men from his regiment who volunteered to serve as officers in United States Colored Infantry, a matter of considerable pride for the men and officers of the Third Minnesota. Redlon served with the 113 th U. S. Colored Infantry and was promoted to the rank of lieutenant on May 8, 1865. He was discharged on April 9, 1866, after four and a-half years of service.
On November 19, 1867, Redlon married Annie Davis in Monticello, Minnesota. They moved to Minneapolis where Redlon worked as a clerk for the post office, a position that he held until his death on October 25, 1910. The Redlons had two sons, Howard and Fred.
When he was 71 years old, Fred Redlon completed an application for membership in the Hennepin County Territorial Pioneers. On his application form, Mr. Redlon wrote that he had "lived in Minneapolis ever since the war and think it is a good enough place for me to die in." Mr. Redlon died at his home in Minneapolis four years later at the age of 74. He is buried next to his father, also named Cyrus Redlon, in Block B, Lot 23 of Minneapolis Pioneers and Soldiers Memorial Cemetery.
Next Article -> August Weenaas -- December 2005