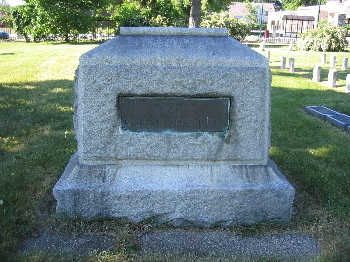 Thomas Sandy: War Causes Stress on Soldiers and their Families
When life's events got to be too much for her, Carolyn (Carrie) Sandy was in the habit of running away from home. The summer of 1875 was a particularly difficult time for her so Carrie took to the streets twice—once in June and again in August. Carrie and her mother had not been getting along, and Carrie's much-loved father was dying of consumption.
Carrie's father, Thomas Sandy was a Civil War veteran who after his return from the war worked for the railroad. He and his wife, Mary, and their five children, lived at 1924 Riverside Avenue. Thomas Sandy had emigrated from England, his wife from Ireland. They were married in St. Paul, Minnesota, and Mary gave birth to the first of their five children when she was 17 years old. By the time her husband enlisted, they had four young sons ranging in age from two to five years old.
Thomas Sandy enlisted in Company F of the Third Minnesota Volunteer Infantry on November 4, 1861. By the time that he enlisted, it was becoming clear that the war was not going to be over any time soon. Despite that realization, or perhaps because of it, the Third Minnesota Volunteer Infantry was given a hero's send off from Fort Snelling. They headed south where they had their first encounter with Confederate troops which ended in a humiliating defeat. At the Battle of Murfreesboro, their commanding officer, Colonel Lester, ignored requests for assistance from the commanding officers of other regiments and ordered his own troops to surrender without firing a shot, an act for which he was summarily dismissed from the army. His men were taken prisoner and sent to a camp in Missouri. When the Dakota Conflict broke out, the men were paroled and sent back to Minnesota to suppress the uprising. Although they were seriously demoralized and totally lacking in discipline, they were considered the victors at the Battle of Wood Lake.
The date was not recorded, but at some point after that battle Thomas Sandy deserted and returned to his wife and four young sons. He was arrested on April 15, 1863, and returned to the army where he re-enlisted. He served in the Seventh Minnesota Volunteer Infantry until September 2, 1865, when he received an honorable discharge. Carrie Sandy was born in December 1864. She was the last of Thomas and Mary Sandy's children, their only daughter, and the apple of her father's eye.
The stresses and strains that the Sandy family experienced during the war and after were by no means uncommon. There were an estimated 630,000 casualties during the war, but countless men sustained injuries or contracted illnesses that ultimately ruined their health and landed their families in poverty. The number of women and children who lost husbands and fathers is unknown but is estimated to be in the millions.
When Carrie ran away for the first time, her mother was so remorseful that she took out an ad in the paper asking anyone who had information about Carrie to contact her. Mary Sandy admitted that she had whipped Carrie and cut up her best dresses in order to punish her for her incorrigible behavior. Carrie was, according to her mother, a sober and serious child who seemed to have planned her escape carefully—she cut off her hair and took to the streets dressed as a boy. Carrie was reported to have been sleeping at a local livery stable. During the day, she was seen in the rail yards where leaping about on the tops of the railroad cars. One witness reported that Carrie had been seen pouring a round of drinks for other street children, but her mother assured the press that Carrie did not drink.
Thomas Sandy, although gravely ill, took to the streets to look for his daughter. She returned a few days later, but in August, the Minneapolis Tribune reported that Carrie had "stampeded" again. Once again, she returned home. Her father's condition had worsened over the summer, and he was taken to a charity hospital where he died on September 5, 1875, at the age of 45. His family couldn't afford to buy him a burial plot, so he was buried in one of the graves that the Grand Army of the Republic had purchased for indigent veterans. Carrie and her mother were still living together when the 1880 census was taken. Carrie was 16, her mother was 39. From that point on, there is no record of them.
Next Article -> Andrew Kolesar -- July 2007