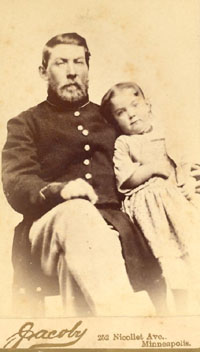 Nellie Woodward
Civil War Veteran Jasper Woodward Home War to Wife Abbie and Five Year Old Nellie
The photographer at the Jacoby Studio who took the photo of Nellie Woodward and her father, Jasper, captured a wonderful moment in time. The photo was taken in the mid-1860s. Jasper Woodward is dressed in his Civil War uniform, and Nellie, his daughter, looks as though she were about five years old. Unlike most pictures taken at that time, this photo is remarkably candid—a little girl cuddled up against her father.
Nellie was the only daughter of Jasper and Abbie Palmer Woodward and the oldest of their four children. She would have been about one year old when her father enlisted in Company H of the Sixth Minnesota Volunteer Infantry and about five when he returned to Minneapolis. This photo most likely was taken about the time that he returned home. As it turned out, he was not to have much time to spend with Nellie. She died on October 30, 1870, from scarlet fever at the age of nine.
Nellie is one of the more than ten thousand children who are buried in Minneapolis Pioneers and Soldiers Memorial Cemetery. She is one of approximately two hundred children who died from scarlet fever, a disease caused by a streptococcal infection. Symptoms are the same as those for strep throat but also include the characteristic rash that gives the disease its name. Although the disease was not always fatal, there was no effective treatment for it before the discovery of penicillin. Today the disease is easily treated with antibiotics.
After he returned from the service, Jasper Woodward worked as a building contractor. He and his wife, Abbie, had three sons, all of whom survived to adulthood. Jasper Woodward died on May 4, 1895, from pneumonia at the age of 63. He was buried in the soldiers section of Lakewood Cemetery. Abbie Palmer Woodward died on June 30, 1898, and was buried next to Nellie in Minneapolis Pioneers and Soldiers. According to Abbie Woodward's obituary, she was "a most loveable woman of kindly disposition toward all with whom she came in contact." For that reason, she will have her own story in the Alley in the near future.
Next Article -> Soren Madsen -- October 2005