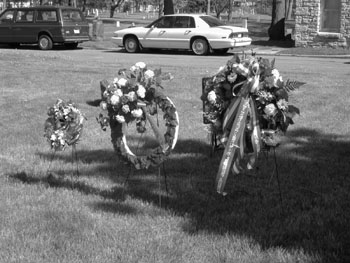 135th Memorial Day Celebration Planned for Pioneers & Soldiers Cemetery
For many, Memorial Day marks the unofficial start of summer. When it began 136 years ago, it was a day when virtually everyone set aside some time to pay their respects to the estimated 620,000 soldiers, sailors and marines who had died during the Civil War.
The first official Memorial Day, originally called Decoration Day, was celebrated in 1868 after General John Logan, Commander-in-Chief of the Grand Army of the Republic, issued General Order #11. That order designated May 30th as a day for "strewing with flowers or otherwise decorating the graves of comrades who died in defense of their country." In 1882, Decoration Day was officially re-named Memorial Day. It was not until 1971 that it was designated a federal holiday and the date changed from May 30th to the last Monday in May.
The first recorded Decoration Day at Minneapolis Pioneers and Soldiers, then known as Layman's or Minneapolis Cemetery, took place on May 30, 1869. At 3:30 on a Sunday afternoon, a "large concourse" of Minneapolis residents gathered at the cemetery and decorated the solders' graves with "flowers and other emblems of love." At that time, only four years after the end of the war, there were 18 Civil War veterans buried in the cemetery. The majority of them had returned home where they died from injuries sustained during the war or from diseases, such as tuberculosis, which they contracted during the war. In addition to the 160 veterans from the Civil and Indian Wars who are buried in the cemetery, there are three War of 1812 veterans, 20 Spanish-American War veterans and one veteran from World War I.
The tradition that began 135 years ago at Minneapolis Pioneers and Soldiers Memorial Cemetery continues. Please join us for the 135th Memorial Day observance at Minneapolis Pioneers and Soldiers Memorial Cemetery at 10:00 a.m. on Monday, May 31.
Next Article -> Wonderland Babies -- July 2004