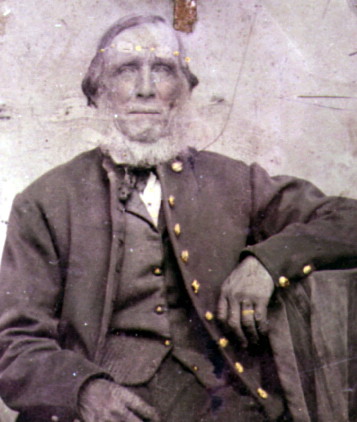 Asa Clark Brown
The War of 1812 is one of those subjects that most of us studied in high school but would be hard pressed to explain to anyone else. Part of the reason is that it was less of a war than a series of skirmishes that ranged from the Canadian border to the Gulf of Mexico. We might remember that the British burned the White House, and that Dolley Madison was forced to run for her life having had the presence of mind to take a painting of George Washington with her. We might also remember that Frances Scott Key was inspired to write the Star-Spangled Banner after watching the British Navy bombard Fort McHenry.
During the War of 1812 many soldiers were drafted to serve in militias, and the practice of sending a substitute to serve in one's place was not uncommon. One such substitute was Asa Clark Brown, who fought in place of a man whose last name was Thomas, first name unknown. In September of 1813, Asa Brown enrolled in Captain Adams' Company of the New York State Detached Artillery. He served until November 9, 1813, when he was given an honorable discharge.
He married Elizabeth Reynolds sometime between 1810 and 1815. They had four children. It is likely that Elizabeth died sometime between 1822, when their last child was born, and March 8,1832, when Mr. Brown married his second wife, Eleanor Huppenan. Asa and Eleanor Brown had five sons.
By 1826, Asa Brown was co-owner of a saw mill in Venango, Pennsylvania. Sometime before the 1860 federal census was taken, Asa Brown and several of his children had moved to Richfield, Minnesota. The census listed his occupation as carpenter, and his net worth as a comfortable, though not wealthy, $275. During the Civil War, seven of Asa Brown's sons and three of his grandsons served in the Union Army. Mr. Brown lived long enough to see all of them return unharmed. He died on March 7, 1866, from pleurisy at the age of 73 years, 4 months and 23 days.
Join us in honoring Asa Brown and 20,000 others who are buried in Minneapolis Pioneers and Soldiers Memorial Cemetery on Monday, May 30 at 10 a.m. There will be a history talk in the cemetery at 1 p.m. with an optional tour to follow.
Next Article -> Edwin Hedderly -- June 2005