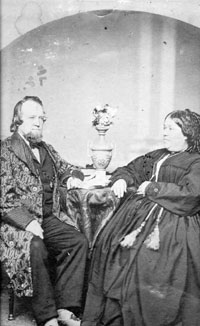 Edwin Hedderly
Pioneer, Judge, Entrepreneur, Philanthropist
Although very few people would recognize his name, Edwin Hedderly was one of Minneapolis' most prominent territorial pioneers. For over 30 years he was a major contributor to the civil and business interests of the city, and he was an active supporter of the city's fledgling art scene.
Edwin Hedderly was born in Philadelphia in 1814 and lived there until 1846. From 1846-1849 he lived in Indianapolis where he was engaged in a number of business enterprises. In 1849, he and his family moved to St. Anthony, a trading post on what was then regarded as the nation's frontier. He was one of a handful of civil leaders involved in surveying the city and, in 1853, was one of three men unanimously elected to serve as city assessors. He was a Hennepin County judge and presided over the first jury trial in the county. He provided financial support to what was described as the city's first "singing school."
In 1851 he purchased 160 acres in what is now West Minneapolis. Mr. Hedderly was an owner, or partner, in a number of different businesses including a grocery store, a hardware store and a pharmacy. His successes in those enterprises enabled him to purchase half-interest in Perkins' Lumber Mill in 1871. The mill, which included the village, dam, and rights to the water power, cost Hedderly and his partner, Henry Vroman, $42,000, a significant sum of money at that time.
Edwin Hedderly was married to Mary Kennard, also from Philadelphia. Mary Hedderly died from dropsy on September 20, 1869, at the age of 52. Edwin Hedderly survived her for eleven years. In 1880, he was suffering from a bladder stone and traveled to Boston for an operation to have it removed. He survived the operation and appeared to be recovering, but on May 31, one of his sons received a telegram notifying him that his father had suffered a setback. Later in the day he received a second telegram telling that his father had died at 4:40 in the afternoon.
Edwin Hedderly's remains were brought back to Minneapolis to be interred next to Mary's. A large rook-shaped marker, one of the most prominent in the cemetery, marks their graves. Within a few years, two of their grandchildren were buried there as well. Edwin Hedderly was 66 years old at the time of his death. He and Mary were survived by ten children.
An announcement of Mr. Hedderly's death appeared in the Minneapolis Journal on June 1, 1880. The author described Mr. Hedderly as "upright and intelligent," and as someone who was "greatly esteemed by all who knew him."
Next Article -> Otto Wisen -- August 2005