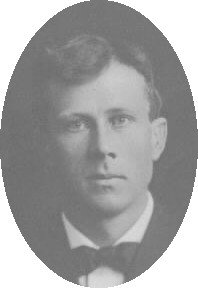 Otto Wisen
Swedish Immigrant, was a Park Avenue and Minnetonka Gardener
Otto Wisen and his older brother, Anders, arrived at Ellis Island from Rudskoga, Sweden on the ship Campania on March 17, 1900. When they arrived, Otto was 19 years old, and Anders was 21. According to the ship's manifest, the two brothers arrived with only eleven dollars between them.
Otto and Anders were two of Gustaf and Charlotte Johansen's four sons. Nicholas, an older son, had come earlier and settled in Lake City, Minnesota, where he worked and saved enough money to bring his brothers to America. The fourth son, John, eventually settled in Pepin, Wisconsin. None of the four brothers ever returned to Sweden or saw their parents again.
A few years after joining his oldest brother in Lake City, Otto moved to Minneapolis where he found work as a gardener for Franklin Peavey, one of the city's wealthiest grain merchants. The Peavey family, like many other families who lived in the mansions along Park Avenue, owned a summer home on Lake Minnetonka. Highcroft, their summer home, was an Italianate villa with gardens designed by Frederick Law Olmsted, architect of New York's Central Park. It was Otto's job to maintain the gardens.
When he wasn't working in Minnetonka, Otto lived in town, in a boardinghouse located at 1209 2 nd Avenue South. On Tuesday, October 13, 1915, others who lived in the house became concerned when they realized that none of them had seen Otto for several days. They broke down the door to his room and found his body. Apparently as Otto was getting ready to go to bed on Sunday evening, he had extinguished the flame used to light his room but had not completely closed off the gas jet. He died as a result of illuminating gas poisoning. The coroner ruled that Otto's death, at age 34, was an accident.
Otto Wisen is buried in an unmarked grave in Lot 2 in the southwest corner of Block L in Minneapolis Pioneers and Soldiers Memorial Cemetery.
Next Article -> Nellie Woodward -- September 2005