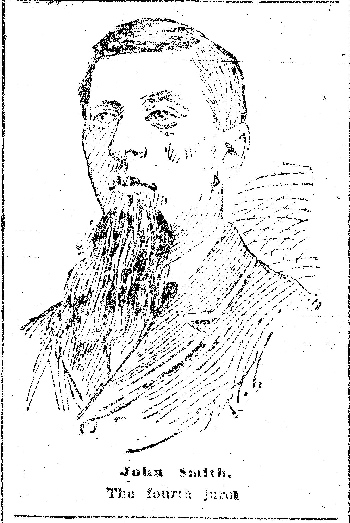 John Smith, Man with a Common Name and an Uncommon Life.
For a man with such a common name, John Smith lived a very uncommon life. He was an eyewitness to, and minor player in, two of the most controversial events in 19th century Minnesota history. The first event—the forced removal of the Dakota people from Minnesota following the Dakota Conflict of 1862—was certainly the more tragic of the two events. The second event—the murder trial of Harry Hayward—was not of any great political or historical significance, but it was front page news for four or five months in 1895.
John Smith was born in Switzerland and emigrated to the United States when he was five years old. His family settled in St. Paul, and it was there that he enlisted in Company K, 10th Minnesota Volunteer Infantry on September 28, 1862. Like many Minnesota volunteers, he most likely thought that he would be heading South to fight Confederates but wound up building forts and doing guard duty along Minnesota's western frontier.
Between January 1, 1863 and May 31, 1863, Smith kept a small journal. He wrote 99 entries, most of them no more than five or six lines long. Many of the entries describe the weather, the monotony of army life, and his efforts at self improvement. He was a religious man and spent much of his free time reading or teaching others to read. Smith heartily disapproved of the drinking and gambling that other soldiers indulged in but does not appear to have been a rigid or judgmental man. The last pages of his diary include several maxims that illustrate the type of person that he was striving to be: "Put moral considerations first, and let all others follow theirs, and you shall find in the end, that you have gained by it."
On May 4, 1863, Smith recorded that he was one of 40 men from Company K who boarded a boat at Fort Snelling. On board were 762 Dakota people, mostly women and children, who had been forced to leave Minnesota and relocate near Yankton in the Dakota Territory. He wrote little about their day-to-day experience, but on May 25, 1863, he recorded that 13 of the Native American passengers had died in the three weeks since their boat left Fort Snelling. The last entry in his diary was written on May 31, 1863, when they had reached Fort Randall, their final destination.
Smith continued to serve in the military until July 21, 1865, when he was mustered out of the service. For the next several years he moved around the country, got married, worked as a blacksmith, and finally settled down at 1827 Franklin Avenue.
In the fall of 1894, John Smith filed his naturalization papers which made him eligible for jury duty. On January 23, 1895, his name was drawn from a pool of prospective jurors for the Harry Hayward murder trial, commonly referred to as "Minnesota's Crime of the 19th Century." Defense attorneys and prosecutors questioned him about his knowledge of the case, and Smith admitted to having read about it in the papers and to having discussed it with his wife; however, he denied having formed any opinion about Hayward's guilt or innocence. He became the fourth of the twelve jurors chosen to hear the case.
Over the course of the next several weeks, Smith and the other eleven jurors did form an opinion about Hayward's role in the murder of Catherine Ging. They found him guilty of first degree murder, and Hayward was executed on December 11, 1895.
John Smith died in the Soldiers Home on July 6, 1904, from appendicitis at the age of 60. He is buried in Lot 7, Block i-1, at the opposite end of the cemetery from Harry Hayward.
Next Article -> David Rickett -- April 2008