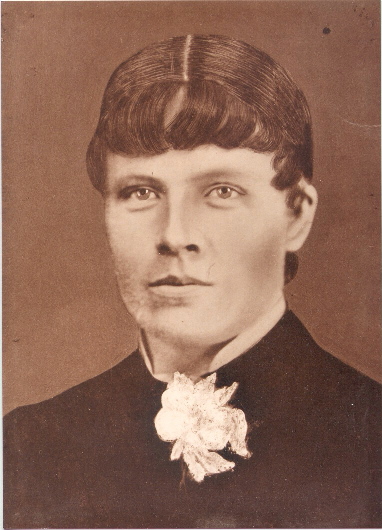 Caroline Swanson
You can tell a lot about a city's history by looking at the records of its local cemeteries. Information about the various causes of death provides details about epidemics, infant mortality rates, and the prevalence of diseases like tuberculosis. The names of those who died, their ages, where they lived, and where they were born, are part of what turns public health information into personal stories. Those stories, sketchy though they might be, are a large part of our shared history.
Minneapolis Pioneers and Soldiers Memorial Cemetery was most "active" in the 1880s and 1890s. It should come as no surprise then that the greatest number of adults buried in the cemetery were immigrants. Over 2,100 adults (approximately 10%) of the adults buried in the cemetery were born in Sweden.
Unlike the territorial pioneers, mainly New Englanders, who arrived in the 1850s and 1860s, those who were "foreign born" did not leave many first-hand accounts of their daily lives. It is doubtful that many of the immigrants thought of themselves as doing anything historic when they moved to Minnesota, but their collective influence on our social and political history is unmistakable. What we know of them comes mostly through vital statistics—marriages, births, and deaths. If we're lucky, there might be a reference to them in a local paper What we "know" about how they felt or what they thought on those occasions is something that we can only imagine.
Caroline Fredrika Swanson was born in Ousby, Hastveda, Sweden on March 23, 1865. It is not clear when she immigrated to the United States, but she was here by 1885--the year that she married Frank Albert Swanson. Unlike Caroline, Frank was born in the United States. He was the son of first-wave immigrants or "Swedish pioneers." Many of those in the first wave came to avoid religious persecution, although the desire to own land was as attractive to them as it would become to the large numbers of people who came later. Those in the first wave tended to settle in Illinois, the gateway to what was then considered the West. Frank was born in Illinois in April 1860 and moved to Minnesota about 20 years later.
By1885, Caroline and Frank were living in Murdock Township, Swift County, in southwestern Minnesota. They were listed as members of the Murdock household, and it is likely that Frank worked as a farm laborer while Caroline worked as a domestic. The first of their six children was born in Murdock in July 1886. Over the next 14 years, Caroline and Frank had four more children. By 1900 the family owned its own farm in Murdock and apparently had business interests in North Dakota as well. Their youngest son, Clifton, was born in Milnor, North Dakota, in October 1905, when Caroline was 41 years old. A local newspaper, the Kerkhoven Banner, reported that the Swansons had sold their business interests in North Dakota and were planning to move to Minneapolis.
They moved to Minneapolis in late 1906 or early 1907. Frank worked as a laborer, sometimes as a carpenter. In November 1907, not long after they arrived, Caroline became sick and was under a doctor's care. Six months later, on May17, 1908, she died from cirrhosis of the liver and kidneys; she was 43 years old. Caroline Swanson is buried in Lot V, in the north end of Block 84. Frank relocated to California where he died on February 22, 1949. He is buried in Hillside Cemetery next to their oldest daughter, Ella.
Next Article -> Thomas Sandy -- June 2007