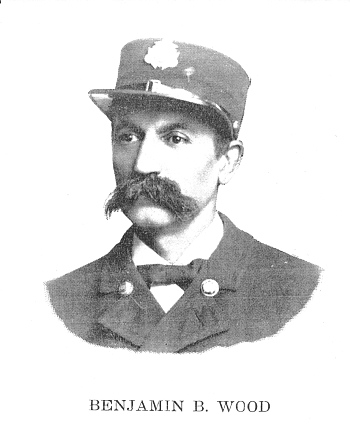 Minneapolis Volunteer Fire Department Went Professional After 1878 Mill Fire
Although Benjamin Wood looks like he was a member of the French Foreign Legion, the uniform that he's wearing in this photograph was the uniform worn by Minneapolis firefighters, circa 1900. At the time that the photo was taken, it had only been twenty years since the city had employed professional firefighters. Before that, firefighters were volunteers who wore an interesting mix of "uniforms," which tended to include sashes and unwieldy hats. When the uniforms, there seems to have been a corresponding transformation in facial hair-- from full beards to shaggy mustaches. Whether that change was the result of a departmental policy or simply a change in fashion is not clear, but Mr. Wood's mustache was typical for firefighters of his day.
It was the explosion at the Washburn A Mill in 1878 that proved that firefighting could no longer be done by amateurs. Within a year of that fire, the city's volunteer firemen petitioned Minneapolis' City Council to provide the funds for a paid, professional force, and the City Council readily agreed. The city's population was growing rapidly; its two largest industries, lumber and flour milling, were especially prone to fires. The number of fire alarms sounded more than doubled between 1875, when 65 were called in, to 1879, when 135 fires were reported. By 1887, the number of calls was up to 352. Potential losses, both human and material, had far outgrown the volunteers' ability to deal with them.
Mr. Wood fought fires in both as a volunteer and a professional. He was hired as a driver by the Minneapolis Fire Department in 1884, but before that he had been a volunteer fire fighter. He was already 39 years old when he was hired, but he brought eleven years' of experience as a teamster to the job.
Mr. Wood was used to dangerous work. By the time that he was fifteen years old, he worked in the lumber industry in his hometown of Winslow, Maine. In 1866, at the age of 21, he moved to Minneapolis, and continued to work in lumber mills for another ten years. In the early 1870s, he found employment as a teamster for a large retail store.
Being a firefighter had certain advantages over other occupations. As a firefighter, Mr. Wood earned $75 a month ($900 a year); in today's dollars, his salary would be slightly over $20,000-not much for such dangerous work. But it was enough to buy a modest house at 2022 16th Avenue South, and it was enough to support his wife, their three children, and his mother-in-law. As a civil servant, he had good job security. One disadvantage was that he and his colleagues were virtually uninsurable. Because of the occupational hazards involved, insurance companies would not sell life or accident insurance to firefighters. The firefighters responded by forming their own mutual aid society, the Firemen's Relief Association. The association paid $1,000 in death benefits to the widows of firefighters; they paid $2.00 a day in workers' compensation to men who could not work because of work-related injuries. Benjamin Wood missed five weeks of work in 1887 and another six weeks in 1886 for injuries received on the job. Fortunately, neither of those injuries was serious to cause him permanent harm.
Benjamin Wood retired from the fire department on March 1, 1902, at the age of 57. His wife, Louisa, had died five years earlier, so he decided to move in with his married daughter and her family. He came out of retirement periodically to work as a foreman for the city's bridge department, but by 1911, he was no longer working. Mr. Wood died at his daughter's home on December 9, 1915, from chronic heart disease at the age of 71. He was buried, under the auspices of the Firemen's Relief Association, in Minneapolis Pioneers and Soldiers Memorial Cemetery. He is buried next to his wife, Louisa, two of their children who died in infancy, and his mother-in-law, Louisa Fowles.
Next Article -> Caroline Swanson -- March 2007