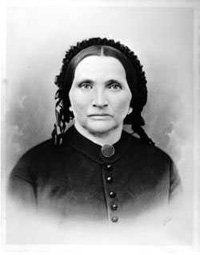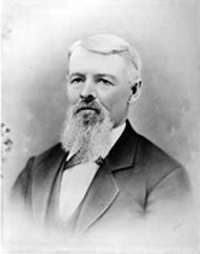 Martin and Elizabeth Layman:
Origins of the Cemetery are the Anti-Slavery Movement
We don't often associate cemeteries with political movements, but the connection between Minneapolis Pioneers and Soldiers Memorial Cemetery and the anti-slavery movement is undeniable. The cemetery was founded in 1853 by Martin and Elizabeth Layman who were among the earliest members of the First Baptist Church. In its earliest days the church met in Fletcher Hall, which was owned Dr. Hezekiah Fletcher, one of the church's founders. The hall was also the gathering place of Minneapolis abolitionists, many of them church members. Several of Dr. Fletcher's family members were among the earliest people buried in the cemetery.
The Layman family's association with the Baptist church may explain why their privately-owned cemetery was never segregated, something that was almost unheard of it the 1850's and 60's. The first recorded burial of an African-American occurred in May 1867, when an infant, identified only as the baby of Mary Johnson, was buried in the cemetery. That child was the first of perhaps as many as several hundred African-Americans to be buried in Pioneers and Soldiers Cemetery.
These include William Goodridge, an activist on the Underground Railroad, and John Cheatham, who was one of the earliest (if not the first) African-American firefighters in Minneapolis. There is Slade Robinson who founded an African-American chapter of the Masons in the 1860's. There are eleven veterans, both African-American and white, who served in the U.S. Colored Troops during the Civil War.
The Layman family, like many of Minnesota territorial pioneers, moved here from the East Coast. They built the sixth house in Minneapolis in 1857 near what is now 29 th Street and Cedar Avenue. In addition to managing the cemetery, they sold produce that they grew on their farm. The Layman's had 13 children, all of whom survived to adulthood. In 1876, Martin Layman built a four-story house at 2929 Cedar Avenue, across from the cemetery's wooden gates. The house had frescoed ceilings and a hand-carved wooden staircase that cost over $500, a great deal of money in those days.
Martin and Elizabeth Layman were married for 55 years. He died on July 28, 1886, at the age of 75. Elizabeth died later that year on November 2. The single paved road in the cemetery is named Elizabeth Avenue in her honor. Charles Layman, their oldest surviving son, inherited the house that Martin Layman built, but it burned shortly afterward. The Good Templars Center occupies the site today.
Next Article -> William Frederick Holtz -- June 2004