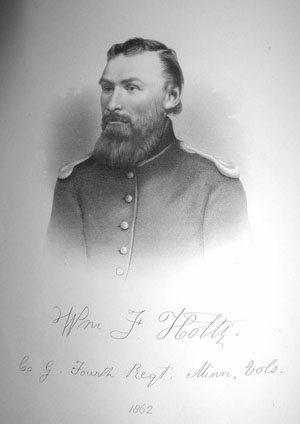 Civil War Veteran:
William Frederick Holtz
There are approximately 160 veterans of the Civil and Indian Wars buried in Minneapolis Pioneers and Soldiers Memorial Cemetery —one of them is Private William Frederick Holtz.
Mr. Holtz was born in Furstenwerder, Prussia, and immigrated to the United States around 1848. After arriving in New York, he worked for several years as a carpenter in the Brooklyn Navy Yard. In 1854, he headed West and arrived at St. Anthony Falls. He found a tract of land where he wanted to stake his claim but was told by the government land office that the land that he wanted was part of the Fort Snelling Reservation and, therefore, could not be pre-empted. Instead, he chose some land in Plymouth Township where he built a log cabin and began farming.
In November, 1861, Mr. Holtz went to Fort Snelling and enlisted in Company G of the Fourth Regiment of Minnesota Volunteers. After spending the winter in Georgetown, the regiment returned to Fort Snelling, and soon afterwards was sent to lay siege to Corinth, Mississippi. Of the 239 casualties sustained by the regiment, 175 were from disease. Although the effects were less immediate for Mr. Holtz than for many of his colleagues, he eventually died as a result of disease that he contracted during his military service.
Mr. Holtz was given a disability discharge at Corinth in July 1862, and returned to Minnesota. He married Lydia Ferguson, a widow, on August 26, 1862. They lived at Ferguson 's Point, Lake Minnetonka.
Mr. Holtz suffered some financial hardships caused by his land falling "into the hands of a dishonest real estate firm." According to Warner:
"The loss of his land, by no fault of his, greatly disturbed him, and the delay of the payment of the pension to which he was entitled, added further to causes which, with his personal sufferings, caused his death at the early age of forty-one years."
Mr. Holt died on January 16, 1869, from dropsy. He is buried in Lot 86, Block B, in the southeast corner of the cemetery.
Next Article -> Hazel Hemo -- September 2004