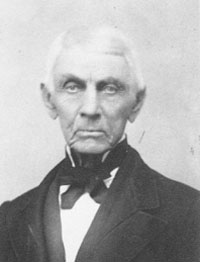 Charles Christmas:
Christmas Brought Order to the Streets of Minneapolis
As we travel about the City of Minneapolis, most of us never stop to think about how easy it is to arrive at our destination. It's only when we travel to cities where streets are laid out in a less orderly manner that we have reason to appreciate that our avenues are neatly laid out to run north and south and our streets laid out to run east and west. The man that we have to thank for that is Charles Christmas.
Charles Christmas, his wife, and nine children arrived in St. Anthony on July 3, 1850, eight years before Minnesota became a state. He was one of the earliest territorial pioneers to file a homestead claim in North Minneapolis after the signing of the Traverse des Sioux Treaty in 1851. In 1852, he was elected Hennepin County 's first surveyor, and he was the first to survey land west of the Mississippi River.
In May 1851, Colonel John Stevens, who is widely regarded as the founder of Minneapolis, commissioned Christmas to survey and plat 100 acres in what is now downtown Minneapolis. When the federal government conducted its own survey in 1854, they found Christmas' measurements so accurate that none of them had to be altered. Nonetheless, Christmas and Stevens were criticized by some of their contemporaries who believed that Minneapolis would never have more than 50,000 people; they thought it was wasteful to design a city with 100-foot wide avenues and 80-foot wide streets.
Christmas was also the chief engineer of all of the territorial roads leading out of Minneapolis and St. Anthony. He surveyed much of the land in and around Excelsior where Christmas Lake was named in his honor.
In May 1942, the Hennepin County Historical Society and the Pioneers and Soldiers Memorial Cemetery Association held a memorial service during which they unveiled a monument to Charles Christmas. The seven-foot tall monument is constructed of Kasota marble that was salvaged from the demolition of Minneapolis ' first Central High School. The monument's original bronze plaque that described Christmas' accomplishments disappeared some time ago and has been replaced by a hand-written insert bearing the same text as the original. Later that year, Anna M. Howe, the widow of one of Christmas' grandsons, donated the compass that Christmas used for surveying to the Hennepin County Historical Society.
Christmas died from "old age" in Chicago on June 17, 1884, at the age of 88. He was buried in Minneapolis Pioneers and Soldiers Cemetery next to his wife, Mary Ann, who died on June 13, 1871; the cause of her death was also listed as old age. Two of their sons, Charles Jr. and Harold ("Hod") are also buried in the family plot. Hod died in Wooster, Ohio, on May 12, 1852, from scarlet fever at the age of seven years and six months. He was originally buried in Ohio, but his remains were moved to Minneapolis in 1871 and buried next to his mother's. Charles Jr. died on November 28, 1867, from consumption (tuberculosis) at the age of 24.
Next Article -> Martin & Elizabeth Layman -- April 2004