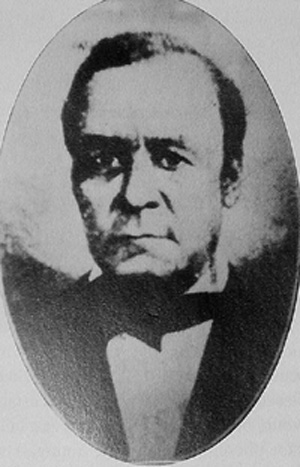 William Goodridge
When it came to courage, William Goodridge had few rivals. Mr. Goodridge, a prominent African-American businessman, ran the Underground Railroad between York, Pennsylvania and Philadelphia in the 1850's. He had been born into slavery in Maryland in 1806 and given his freedom at the age of 16. By the time he was 18, he owned a barber shop, the first of many business enterprises that was to make him one of York's wealthiest citizens. Among other things, he owned 13 railroad cars and operated the Reliance Line, a freight shipping business.
Mr. Goodridge's involvement with the Underground Railroad is documented as early the Christiana Riots in 1851. Several of the fugitive slaves who were involved in that riot were smuggled across Pennsylvania on Mr. Goodridge's railroad cars during the first leg of their escape to Canada. Eight years later, Oliver Perry Anderson, a member of John Brown's raiding party, hid in Goodridge's home and office building until abolitionists thought it safe to move him to Philadelphia. Although Mr. Goodridge was very discretge about his activities, pro-slavery forces suspected his involvement. His home was under constant surveillance, and there were rumors of plots to kidnap him and take him to the South. Those threats, coupled with personal and financial problems, eventually forced him to leave Pennsylvania.
In 1865, Mr. Goodridge moved from York to Minneapolis to live with his daughter, Emily, and her husband, Ralph Grey. The Greys, who had been in Minnesota since the late 1850's, were active members of the anti-slavery movement in Minnesota and were instrumental in helping a woman named Eliza Winston attain her freedom in 1860. The Grey's second son, Toussaint L'Ouverture Grey, named after the liberator of Haiti, was born in 1859, the first African-American child born in St. Anthony. Toussaint died from heart disease on June 28, 1868, at the age of nine.
Wendell Phillips was a friend of the Goodridge-Grey family and one of their allies in the abolitionist movement. When he came to Minneapolis in 1872 on one of his lecture tours, he spent time visiting with them.
Among his many business ventures William Goodridge built and owned Centre Hall, which stood five stories tall and was the tallest commercial building in York, Pennsylvania at that time. His oldest son, Glenalvin, opened a photo studio in the skylight rooms on the top floor of the building in 1847. It was among the earliest African-American photography businesses in the United States. His two brothers, William and Wallace, became partners in the business which they relocated to Saginaw, Michigan, in the 1860's. In 1867, Glenalvin, who was suffering from tuberculosis, moved to Minneapolis to be with his father and sister. He died here on March 15, 1867, at the age of 39. His brothers continued to run the business in Saginaw until 1922, making it the longest-running African-American owned photography business in the United States.
William Goodridge died on January 1, 1873, from "dropsy" (most likely congestive heart failure) at the age of 67. He was buried in the southwest corner of Minneapolis Pioneers and Soldiers Memorial Cemetery next to his son, Glenalvin Goodridge, and his grandson, Toussaint Grey. Despite the prominent role that William Goodridge played in the Underground Railroad, his accomplishments have not been widely known in Minnesota. Once family members left the state, the location of his grave was forgotten. It was rediscovered by Friends of the Cemetery in June 2003.
Next Article -> Charles Christmas -- March 2004