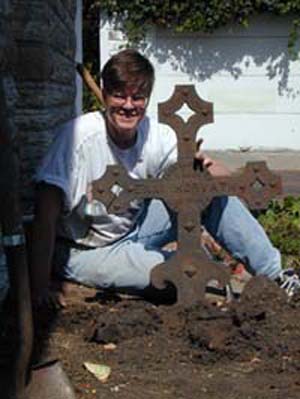 A Second Iron Cross is Discovered at Pioneers & Soldiers
Grave markers in Minneapolis Pioneers and Soldier Memorial Cemetery have been turning up in the strangest places. Two years ago, Park Board staff found the top third of an iron cross inside of a tree that they had cut down. On September 5, 2003, Sue Anderson was preparing a garden bed outside of the caretaker's office when she uncovered a second iron cross lying face down in the dirt about five inches below ground level. Both of the crosses had been broken off at their bases and removed from their original grave sites.
Cast iron crosses such as these were most commonly were used by Eastern European immigrant families to mark the graves of their relatives. The crosses were mass produced around the turn of the 19 th century so they were relatively affordable to newly-arrived immigrants. The majority of crosses in the cemetery date from 1890-1910, a time frame that corresponds to the arrival of large numbers of immigrants from Eastern Europe.
The oldest known cross in the cemetery is the one that was found in the tree. It belongs to a baby boy named John Herman Graveni, who died on April 4, 1884, from spinal meningitis at the age of six months. Professor Wayne Potratz, from the University of Minnesota 's Art Department, did an extensive restoration of the cross, and it was remounted on the John's grave on May 10, 2003.
The second cross belongs to Enni Horvath, a baby girl who died on March 10, 1908, from pneumonia at the age of two months. Enni is buried near her two-year-old brother, George, who died in October 1908, also from pneumonia. Like many of families who used iron crosses to mark graves, the Horvaths lived on the Bohemian Flats on the west side of the Mississippi River below what is now the Washington Avenue Bridge. Their father, Mike Horvath, worked as a barrel maker, most likely for one of the flour mills.
Members of Friends of the Cemetery are planning to get Enni's cross repaired over the winter and hope to remount it on her grave next spring.
Note: Since this article was written, the Smith Foundry used the original cross to make a copy; the copy will be placed on Enni's grave.
Next Article -> Memorial Day -- May 2004